Bell Geared Steam Locomotive
General Information
Geared Steam Locomotive Works ©
<Bell Main

Points of Superiority 230d Note<
"The Bell Oil Burning Steam Geared Locomotive has the following points of superiority over other types:
Lowest in price.

Uses cheapest fuel; kerosene, fuel oil, distillate or crude oil.

Lowest possible center of gravity with flexible frames permits of high speed over rough track.

50% greater tractive effort than direct connected locomotives of equal weight.

One man operated.

One valve fire control.

Accessible, simple and compact construction.

Can be made with minimum length, width and height clearances.

All parts interchangeable; standardized design.

No smoke or sparks.

Only 15 to 20 minutes to fire up from cold.

No hand oiling.

More speed than any other locomotive of same class.

Low first cost, low fuel cost and long life."
---
Sizes and Haulage Data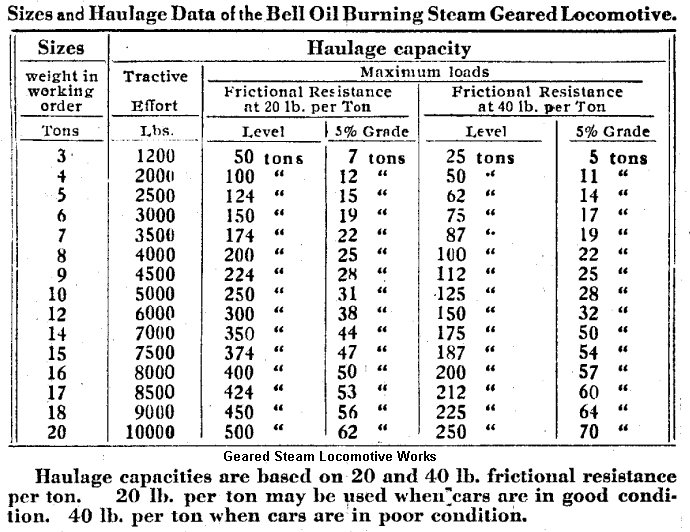 230p
Note: Text in DARK RED is a direct transcription from the indicated source / reference.
Page changed: March 14, 2020 05:03:38 PM