Davenport
Duplex Geared Steam Locomotives
Geared Steam Locomotive Works ©
| | |
| --- | --- |
| Insular Lumber Co. #4 - Manila (Negros Is), Philippines 340p | Doniphan, Kensett, & Searcy RR #3 - Doniphan (White County), Arkansas 240dp |
Duplex Rod / Gear Hybrid
---
The duplex model was built with the boiler, crew cab, and tender mounted on a single elongated frame similar to a "forney" rod type locomotive. The frame rested on two independently powered and geared trucks. Each truck consisted of four drivers, two steam cylinders, valve gearing, main and side rods, and a sealed "oil-tight" gear box. Except for the gear box crank disk, the truck looked similar to a miniature 0-4-0 rod type locomotive without the cab and boiler. > One of the shortfalls of the overall design was the extensive "flexible" steam plumbing required to supply steam from the boiler to the cylinders which were mounted on the constantly swiveling trucks. 240d
Very little technical and owner information is known about these locomotives. From image observations and an incomplete owner roster we have learned they were at very least built :
From May, 1912 through August, 1916

In 36", 42", and standard gauges

In a production quantity of 5

Used in the United States and the Philippine Islands
The locomotives looked similar to the non-geared duplex locomotive built by the Vulcan Iron Works of Wilkes Barre, Pennsylvania.
---
Gear Case: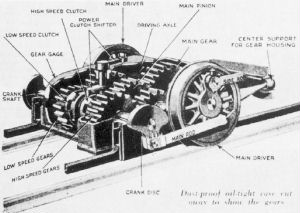 The gear case housed a complex arrangement of several spur gears in an sealed, oil tight and dust proof case.
---
Power Trucks:
As mentioned earlier, each truck swiveled independently of the other. Each consisted of four drivers, two steam cylinders, valve gearing, main and side rods, and a sealed "oil-tight" and "dust proof" gear box. Except for the gear box crank disk, the truck looked similar to a miniature 0-4-0 rod type locomotive without a cab or boiler. Flexible steam piping supplied the steam to the cylinders.
---
Roster:
C/N
Built

Ga.
inches

Wt.
tons

Cyl.
inches
12d

Owners
(1st to last)

Location
1240
05/1912

42"

_
10x14

Insular Lumber Co. #4

Manila (Negros Is), Philippines

1412
07/1913
Std
_
10x14

Doniphan Lumber Co. #3 (Doniphan, Kensett, & Searcy RR)

Doniphan, Arkansas

1472
05/1914
36"
32

290d

8x12

Walker-Hopkins Lumber Co. #2 - sold 1921
Vida Lumber Co. #5 -
______purchased 1921 - scrapped 09/1926

Moyers, Oklahoma
Lomax, Alabama

1474
11/1915
Std
_
10x14

Kansas City, Ozark & Southern Railway 16dd

Mansfield, Missouri

1535
08/1916
36"
_
9x12

Walker Logging Co.

Moyers, Oklahoma
Roster compiled and furnished courtesy of Roy Keeley. Superscripted foot notes denote additional information provided by other sources.
12d - Christian Halpaap of Hohenhameln-Bruendeln, Germany - provided cylinder sizes compiled from Davenport builder records.
16d - Jeff Saxton - provided a correction of the company name and location from a photo in a newspaper article.
Page changed: March 16, 2020 07:22:44 AM