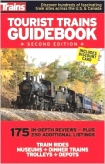 Tourist Trains Guidebookale Railways of New South Wales


"This comprehensive guide to North American tourist train sites features everything from dinner trains and steam excursions to urban trolleys and fascinating museums. Full-page reviews cover more than 175 popular excursion trains and railroad museums. . . . . . The guidebook also lists almost 250 additional train rides, museums, and historical depots of interest for rail fans."

The Gilpin Railroad Era: Black Hawk, Central City, Nevadaville, Russell Gulch ~ by Dan Abbott & Dell A McCoy

The Gilpin Railroad Era: Black Hawk, Central City, Nevadaville, Russell Gulch

Topics Include: *Five Shay Locomotives On The 2-Foot-Gauge Railroad with 4% grades to the mines. *Detailed Gilpin RR. Maps, Mileages from the Engine House. *Tramway Operations - Winter After Dark; Train Lengths; Run-aways and Accidents. *Newspaper Accounts about Shaft House Construction and Railroad Expansion. * Mining and Milling of Gold Ore. *Gold Mining Town Structures; Main Street, Churches, Homes, Schools. *Milled Ore Shipments to Golden Via the Colorado & Southern Three-Foot-Gauge A COMPANION TO COLORADO CENTRAL RAIL ROAD, this pictorial presents the Gilpin Tramway two-foot-gauge Shay steam locomotives running out of Black Hawk, Colorado, to gold mines surrounding the communities of Central City, Nevadaville and Russell Gulch. The route is covered mile-by-mile with detailed in-depth captions and eyewitness newspaper articles of the day within the text. Drop-bottom ore cars, flat cars, excursion cars and cabooses made up the roster of rolling stock traversing the 4%+ grades. Maps are profusely augmented with gleanings from numerous research trips, and provide knowledge of tracks to shaft houses on the upper slopes and mills within Black Hawk. Some 280 mines and mills were served by the Gilpin's network of trackage. A detailed station listing, measured from the Engine House, supplements information provided in photograph captions. Also included are roster charts of the locomotives and other equipment, details of the Gilpin Tramway purchase by the Colorado & Southern Railway, plus a listing of employees and associates.

The RGS Story - Vol. 11 ~ Durango and the Perins Peak Branch ~ by Russ Collman

The RGS Story - Vol. 11 ~ Durango and the Perins Peak Branch



"THE DENVER & RIO GRANDE Railway's tracklayers reached Durango, Colorado, on July 27, 1881, after spiking steel south and west from Alamosa over Cumbres Pass. With the arrival of the railroad on the scene, gold and silver ore could be shipped inexpensively out of the San Juan mountain region. The D&RG chose this site for a town because of the availability of coal. Smelters sprang into existence almost overnight in the fledgling town and mass quantities of raw ore no longer needed to be shipped to Denver or Pueblo. . . . "

Rio Grand Southern